Certifications > Generalist > HRBP Advanced
HRBP Advanced certification validates your mastery in the area of HR Leadership. It demonstrates you have exceptional skills in managing and running the HR Function. It also validates your understanding of the strategic function of HR and policy-implementation.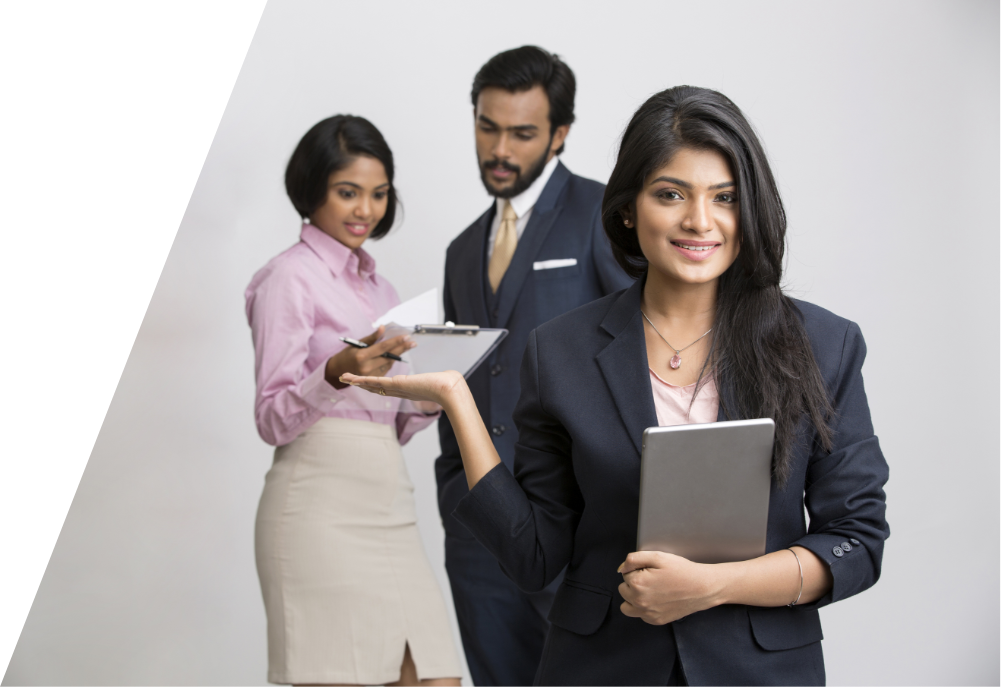 The field of HR is dynamic, and we understand the importance of keeping up with the industry demands and expectations. As the world of work transforms and HR professionals lead their organisations through this time, they must continue to develop professionally. Earning your CHRMP certification demonstrates to your organization and future employers a serious commitment to the profession of HR. In the often crowded and noisy job market, CHRMP helps you to stand out and be taken seriously.
What we offer through The CHRMP – Advanced certification program goes beyond the execution level of human resource management, and it addresses subjects and application methodologies at a decision making and strategy building level. This course is strategically designed for HR professionals with experience who are looking to fast track their career in the HR domain.
This globally recognized award-winning course is formulated keeping in mind the industry demand to constantly upgrade skills, establish best practices, and build valuable networks in the industry. This intensive certification program validates the competencies of professionals thus allowing you to showcase your commitment to your career.
For current and future HR leaders
CHRMP-Advanced (HRBP) certification helps you – the experienced HR professional, build on your skills, clarify complex issues arising out of practical work experiences, and understand the various dynamics that affect critical HR decisions and strategies. A CHRMP-Advanced certified professional has a deep and insightful understanding of HR processes and systems, not only understands HR processes but also becomes capable of designing HR Architecture. We believe in training and encouraging future HR leaders, and enabling the current leaders of the industry.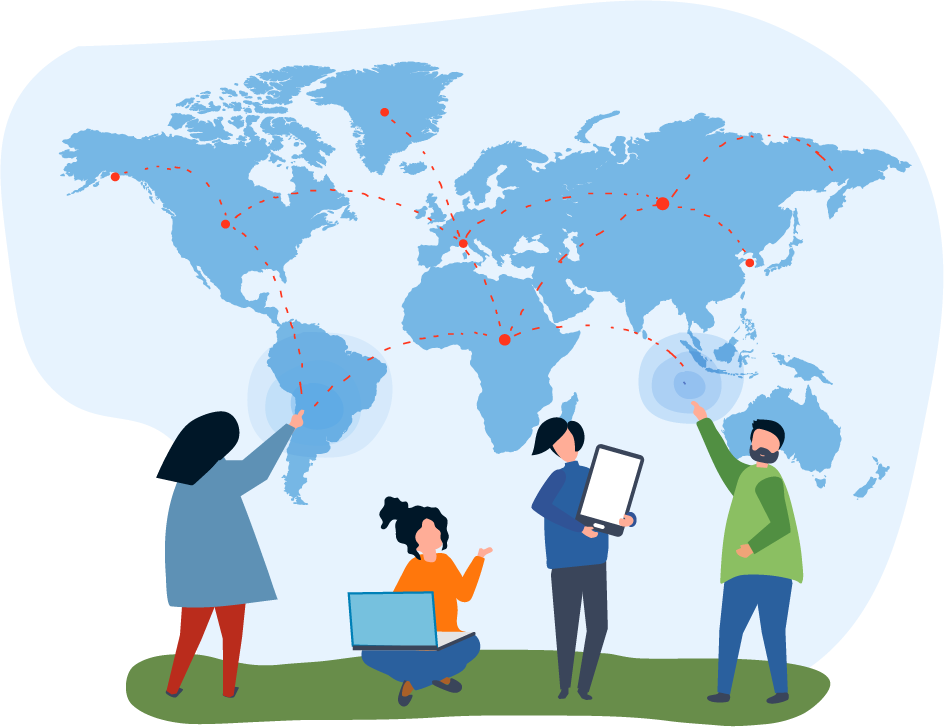 Globally Recognised, Locally Relevant
Through in-depth and application-focused training, and testing at global standards, CHRMP – Advanced gives you an all-rounded perspective of HR functions. This gives you a competitive edge and helps you stay ahead of your peers, both locally and internationally. We believe that CHRMP certified professionals can hold their own among the HR industry, and stand out as professionals.
Competency-based learning design
CHRMP – Advanced is designed using the principles of adult learning, instructional design, and experiential learning techniques. The course material is cutting-edge, future-oriented, and loaded with projects and activities. This enables you to build confidence in your abilities that are practically applicable. Focusing on individual learning styles, CHRMP- Advanced Certification has a custom-built training methodology in order to build a competency-based understanding of HRM.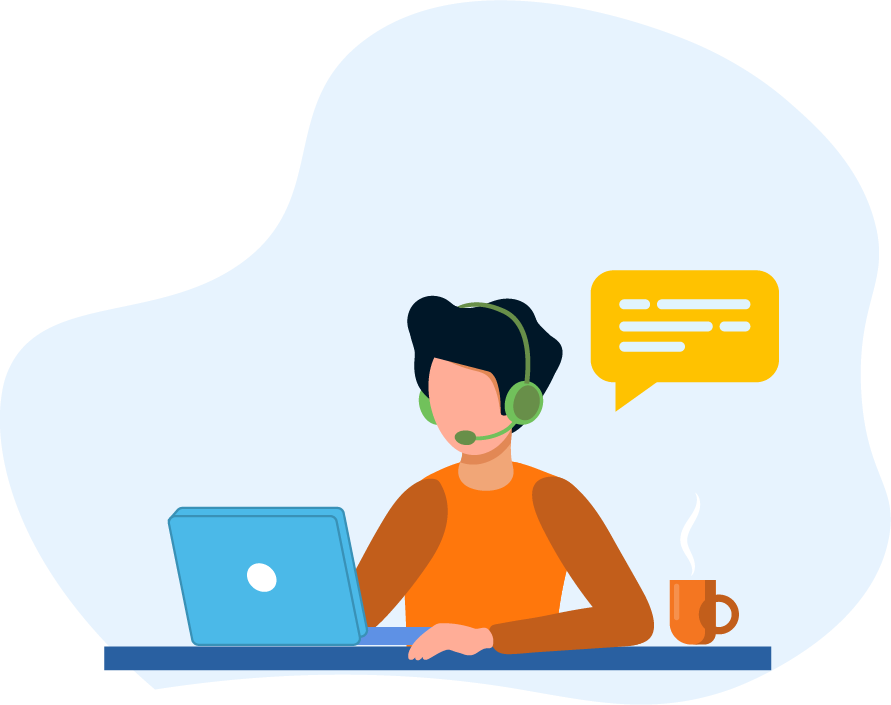 Post-certification on-the-job / job search support
As a graduate, you can enjoy post-training support for one year. During this period, you have unlimited access to online as well as offline courses. CHRMP consultants and industry experts are also available for advice to help credential holders implement on-the-job projects. We pride ourselves on our extensive network, and graduates can also tap into the supportive global alumni community of CHRMP for networking and creating opportunities.
CHRMP HRBP Advanced is a comprehensive program that is based on the premise that candidates have an execution level understanding of HR. Therefore, work experience is a prerequisite. The CHRMP HRBP Advanced certification program is recommended for HR professionals.
Got Queries? Fill The Form
CHRMP is validated with the best-in-the-world-testing standards, delivered in partnership with Mercer Mettl. The certification exam consists of 60 multiple choice questions to be answered in 90 minutes. The questions are a mix of conceptual and practical case study type.

One can take the exam at any designated Mercer Mettl Center or via web proctored in the comfort of one's own home.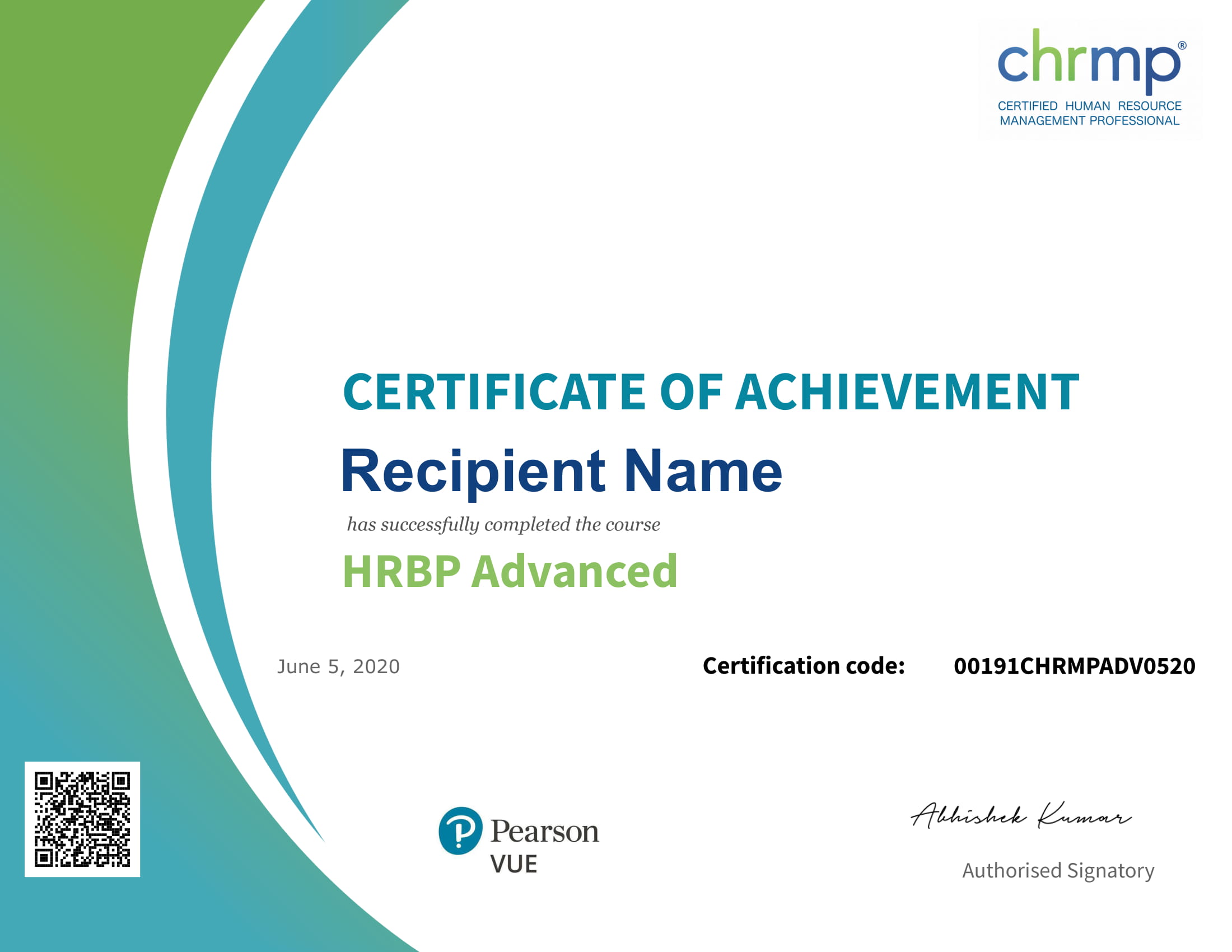 Upon passing the examination successfully, you will receive a Digital Certificate and a Digital Badge through Accredible, verified and secured with Blockchain technology.
(see sample)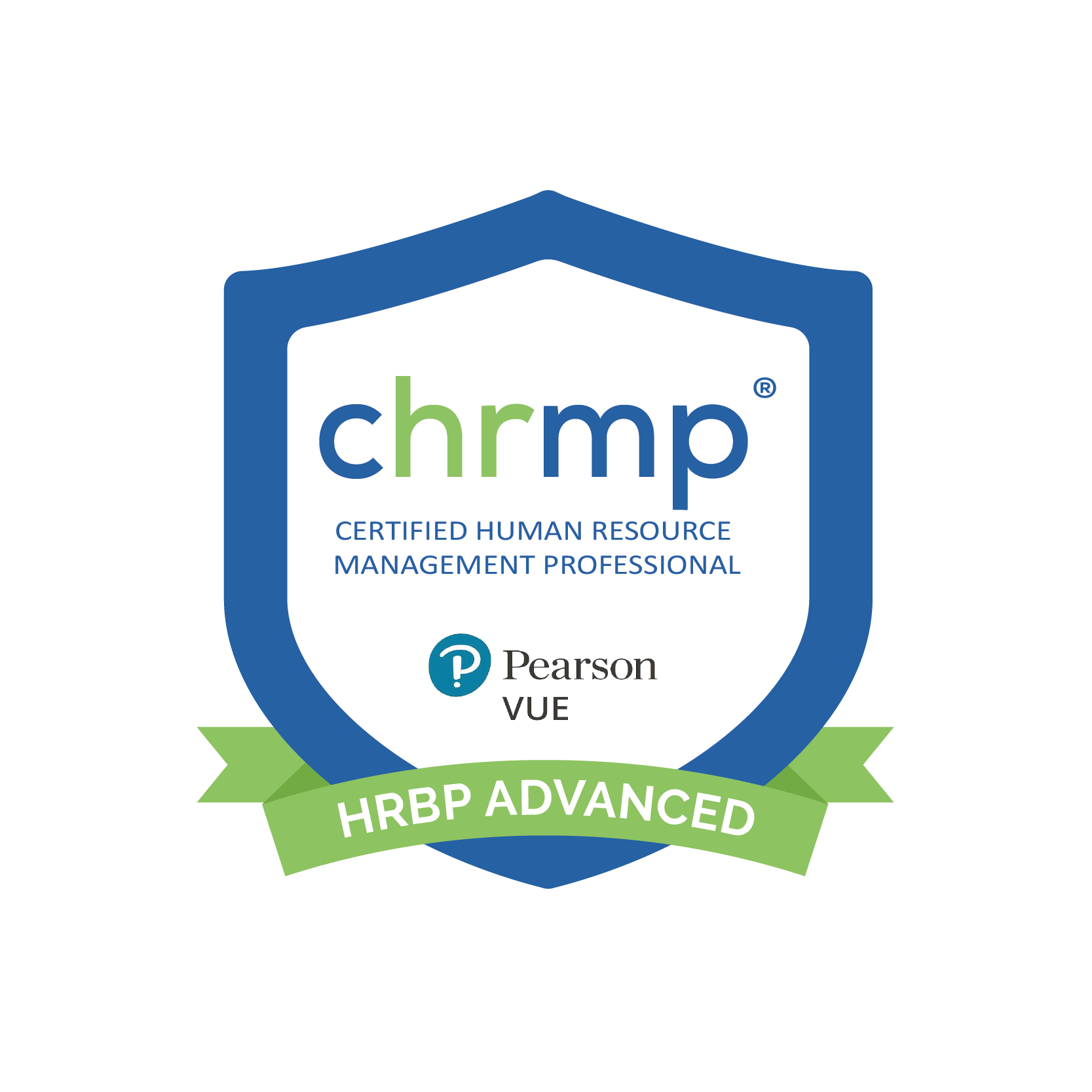 Showcase your program accomplishment with a Blockchain secured and verified digital badge on professional networking sites to gain better visibility.
"I have 5+yrs of experience in HR domain !! CHRMP has an wonderful learning sessions with self development career!!! It's useful for HRs for ugrade of Knowledge and implementation!!! For Non HRs it will be new and easy to Know about the HR field and they can easily implement the process in their new career!!!! So I will b giving 200% Go+ for Chrmp classes and get full benefits of HR domain!!! Tk u ripples for opportunity!!!"
"I wanted to get international certification that will be an added value for my HR career.While going through the certification process, I found the learning process to be smooth and easy. The videos are clear, the topics are well chosen.I liked the clarity of the modules, the examples given by the trainers. The training course was easy because I felt same as in the classroom, so this is an added value. I specially liked the L&D module. I would surely recommend CHRMP to others looking for a certification in HR. I would like to thank CHRMP team for the support and for being efficient in answering any query."
"I had been on a break for sometime after my daughter's birth and wanted to re-start my career. CHRMP at that point was a guiding light for me. The structured approach towards the HR certification made me come up to the current level and I was able to break through the gap in my career to get a job. CHRMP's course structure and the instructors both were very instrumental in all of the above. For me, the HR certification was the first understanding of HR in a formal manner. The in-depth coverage of all the aspects of HR be it Operations, Recruitment, Performance, Competencies etc helped me gain knowledge and created confidence. This is a good place to start the learning...and this learning will take anyone to places. I wish all the luck to CHRMP. A great place where not the qualification that matters but the attitude to learn matters."
"I completed CHRMP Advanced course and it has shown me how to build my career as a HR in a company. The course comprises of atheoretical as well as Activities / Case Studies which helps us to gain intense knowledge about the challenges of a HR from various companies"
"This certification provides a deep insight into the practicality of HR activities. The faculty and the design of the training was amazing, was amused that we can use the theoretical concepts so well practically. The case studies that were given to us to understand the concepts helped alot. Would definitely recommend this certification for people who want to grow in HR and also for people who want to change their career path and begin working as HRs. Thank you Kalpana, Anindita and Indrani for your constant support and guidance all through."
"I loved the video presentations by the tutors and the simple mode of communicating the concepts to the students. The videos are not too long which I felt is the brilliant way of engaging people. Capsule model helped in learning the content quickly and created engagement. The tutors never used unnecessary jargons and always made sure the content is simple and beautiful. The webinars and their mode of ensuring continuous learning is appreciated. This course is definitely a nitro booster to improve the concepts and confident levels of aspiring HR's. Overall it was a brilliant experience. This certification would be ideal for anyone to learn the basics and be confident about the concepts. All the best wishes to CHRMP for being a great learning centre for aspiring HRs."
"I started looking for an HR course and then I was searching Google and I came to know about CHRMP. Then I joined here without knowing anything on the HR side, because I'm a techie, I worked almost 12 years on the technical side and I wanted to switch to the HR side. After completing the course, I know about HR and I'm quite confident to do all the activities as a generalist and going forward, specialising in some areas of HR, like negotiations, the compensation and benefits and definitely recommend this course to all of you, whoever is looking for an HR course here in Ripples because it's a very good learning area. Professionals here are really good, the way they designed and presented the course is amazing. I will definitely suggest this to all my friends, thank you."
"I was looking for an opportunity to add value to my resume, and my friend recommended CHRMP. The examples that instructors led with and the real-time scenarios they used in sessions helped me gain a good understanding of the industry and its operations. I credit my mentors and how supportive they were, and it made me adopt the role of a good HR Professional. There are many sessions that are beneficial, and personally for me, the session on Job Sites was a session that helped me get a job. There is a lot to learn from CHRMP, which is definitely worth learning, and I would highly recommend it."
Blended & Flexible Learning Options
Distance and location are not a constraint for you to earn your CHRMP credentials. Learn from the convenience of your home and take the certification exam in your city (across190 countries) or from your home through web proctoring. 
For going through the learning system – different learning paths are available, including self-paced, live classroom and blended.
Frequently Asked Questions
Are You Ready to Transform Your Career?