Are you looking to apply for a highly coveted HR position? No doubt it's quite a daunting task. So how do you make a lasting impression on hiring managers and ensure getting shortlisted among hundreds of applicants? The answer is a powerful HR resume that stands out.
You might have reviewed several hundred resumes yourself throughout your career, but writing your own resume is no cakewalk. Stepping back and mapping your career and identifying milestones and accomplishments that provide a unique advantage over other candidates can be quite the task.
While there's no one-size-fits-all kind of formula for writing the perfect HR resume, there certainly are many ways for you to build a job-winning HR resume. And we're going to walk you through just that. In this blog, we shall discuss the methods to create a powerful resume and tips to improve it.
So without further ado, let's get started.
Why You Need a Powerful HR Resume
Having an excellent HR resume up your sleeve will open up doors of opportunities for you by leaving a lasting impression on hiring managers. A well-written HR resume will sell your most desirable skills and accomplishments that highlight you as a strong candidate for the position.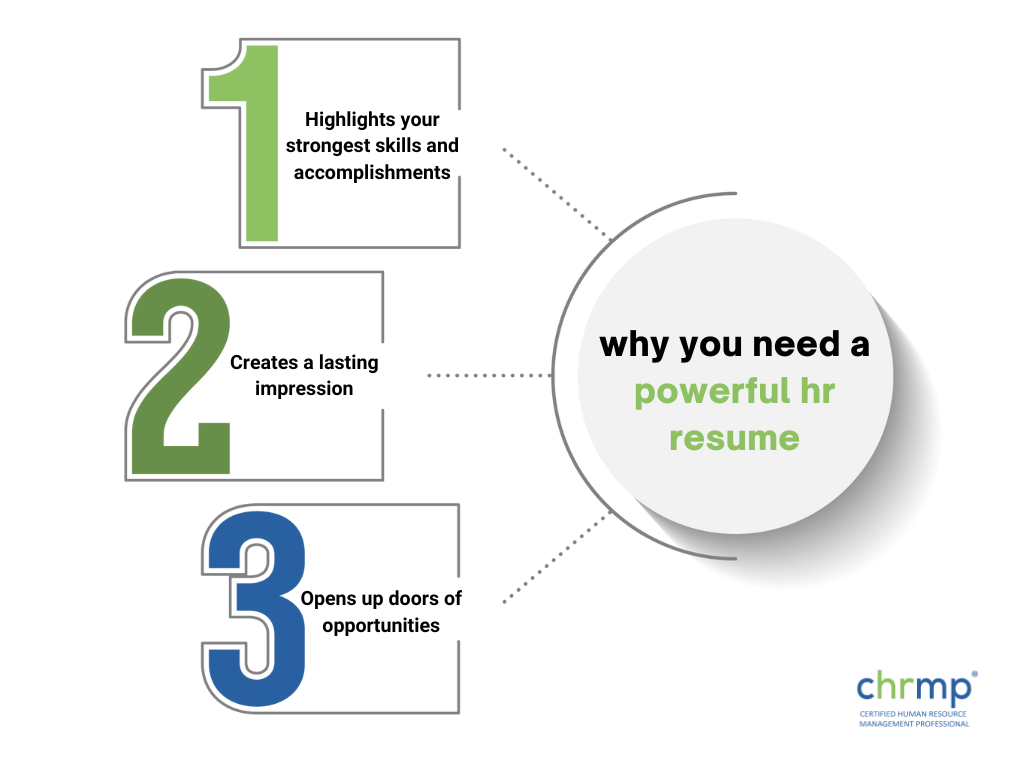 Before you get a chance to display your skills through an interview, your resume needs to get shortlisted. Hiring managers certainly don't have all the time in the world to sift through each and every resume and consider hundreds of individual candidate skills and qualities, which is why you need to make sure your HR resume stands out to get a shot at an interview.
What to Include in an HR Resume
A good HR resume includes an expertly-written primary information section that includes: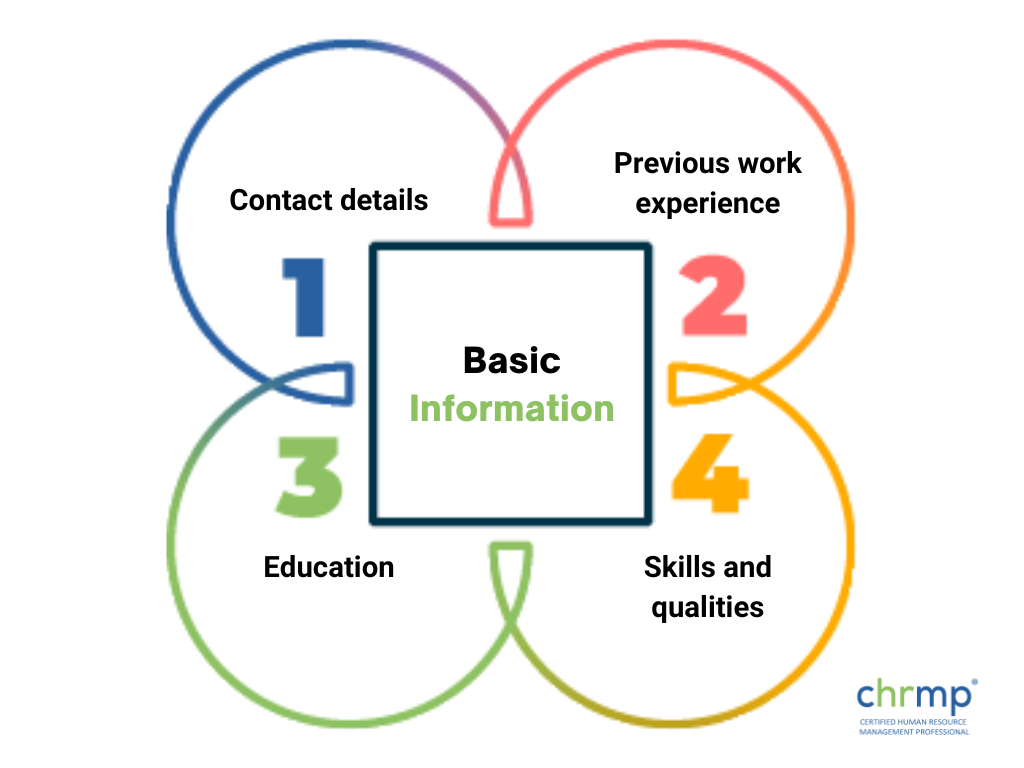 Contact details:
Contact information must include your full name, respective professional title, phone number, email address, location and relevant social media if you have one.
While writing your contact details, double-check every piece of information for any errors. Something as small as a single misspelt letter in your email can take away your chance at getting an interview for your dream job.
Previous work experience:
Hiring managers often prefer candidates with vast work experience to increase their chances of success with their hires. Properly highlighting your professional experience will give you an edge over other candidates. Use the reverse-chronological format to highlight your most important achievements first and gradually work back through the rest of your career accomplishments.
Education:
Describe all your educational qualifications, degrees, other HR-related certifications, etc., along with your GPA and other relevant achievements. (Note: you might only want to list your GPA if it's high.) List each qualification in the following format:
Type of degree and Major
Name of university
GPA, honours, etc.
Skills and qualities:
Hiring managers look for specific must-have skills and qualities while scanning a resume. Some of the most relevant and essential skills to list on your resume are:
Recruiting and selection
Benefits management and administration
Onboarding and training
Knowledge of HR software
Other important things to add in this section include soft skills like problem-solving and decision-making skills, emotional intelligence, teamwork, solid employee management and communication skills.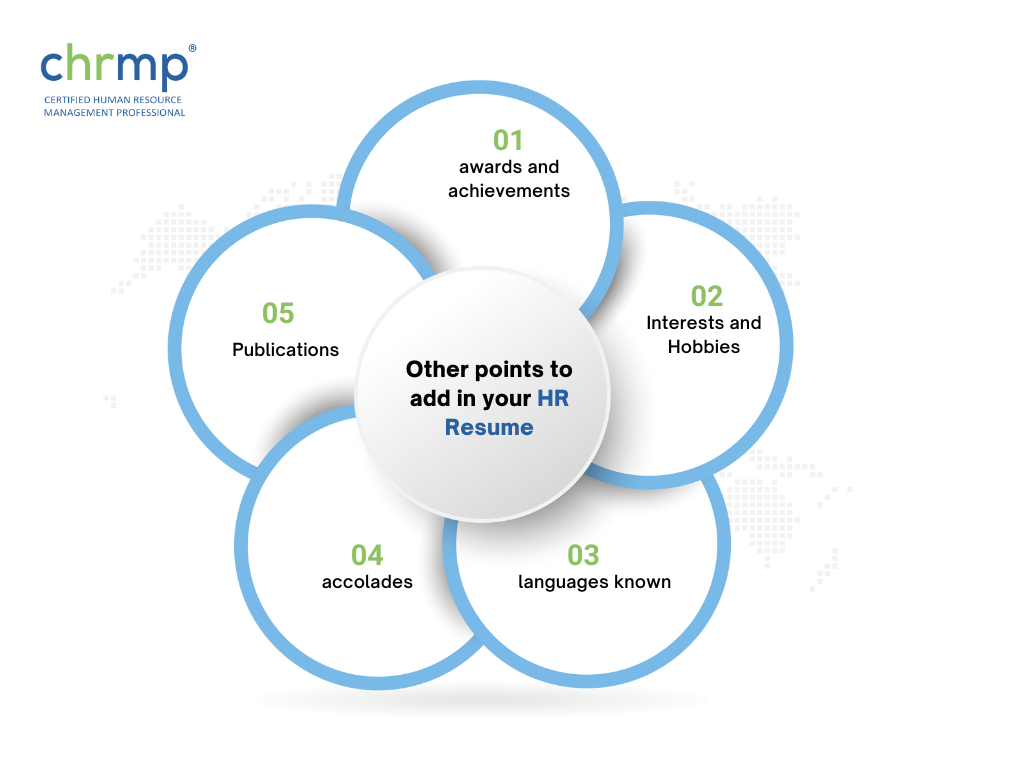 In addition to basic skills, include other sections like awards and achievements, interests and hobbies, languages known, accolades, publications, etc., in your HR resume. Doing so can give you an edge, making your resume stand out from otherwise generic resumes that all look the same.
Tips to Create a Powerful HR Resume
While there's no single formula to make your HR resume the best one out there, some tips and guidelines go a long way in ensuring that it leaves a lasting impression on the recruiting manager. Here are some tips that will prove helpful: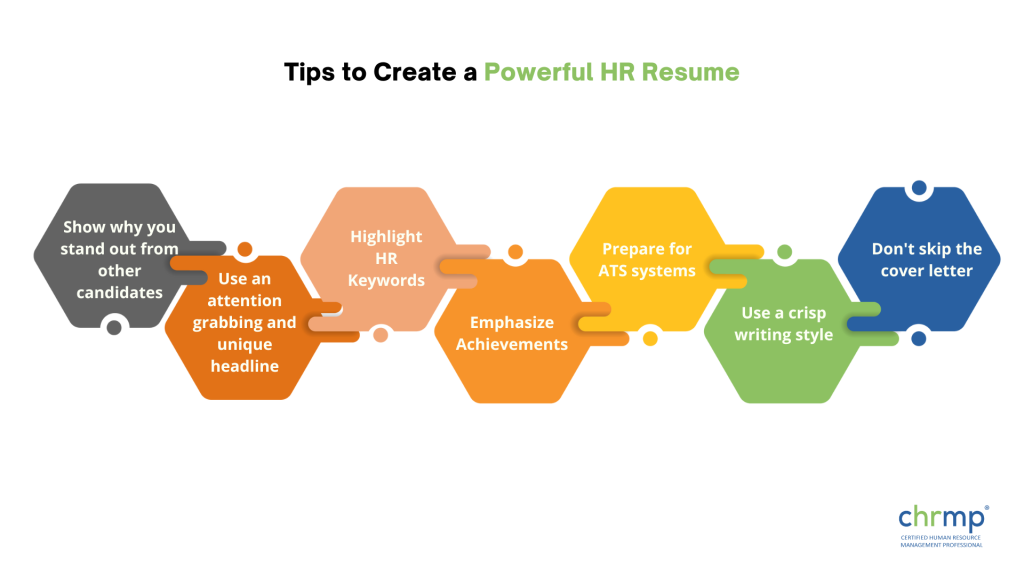 1. Show Why You Stand Out From Other Candidates:
Employees are seen as the foundational blocks of a company, and an HR manager is a go-to person for all problems concerning employees. Hence, you must ensure the recruiter sees you as the perfect fit for the role.
In addition to your qualifications and professional experience, add things that highlight your people and employee management skills. These can range from workshops and leadership positions in organisations you have previously worked with to public presentations, speaking gigs and media features.
Adding professional references to your HR resume is also another great way to highlight your accomplishments. A good reference will substantiate your work experience and provide the opinion of a valid third party who can vouch for your credibility.
2. Use a Unique and Attention-grabbing Headline:
Well-written headline statements have replaced the outdated 'career summary' and 'aim/objective' sections of resumes. Adding a summary highlighting essential points in your career at the top of your HR resume sure seems like a great way to catch the recruiter's attention, but a well-written headline statement does a better job.
Consider crafting a headline statement prominently positioned right after your contact information that tells the recruiter who you are as a professional. Add a subheading or two containing more highlights like industry specialisations or distinguishing credentials that instantly set you apart from most other candidates.
Also, remember to add what you want to do in the future with regard to the position for which you're applying, as this will showcase that your career objective is aligned with what the recruiter is looking for in a candidate.
3. Highlight HR Resume Keywords to prepare for Application Tracking Systems (ATS):
Resume keywords are position-specific words that describe certain job requirements. These words can be specific skills, abilities, expertise, and values that the recruiter looks for in a candidate.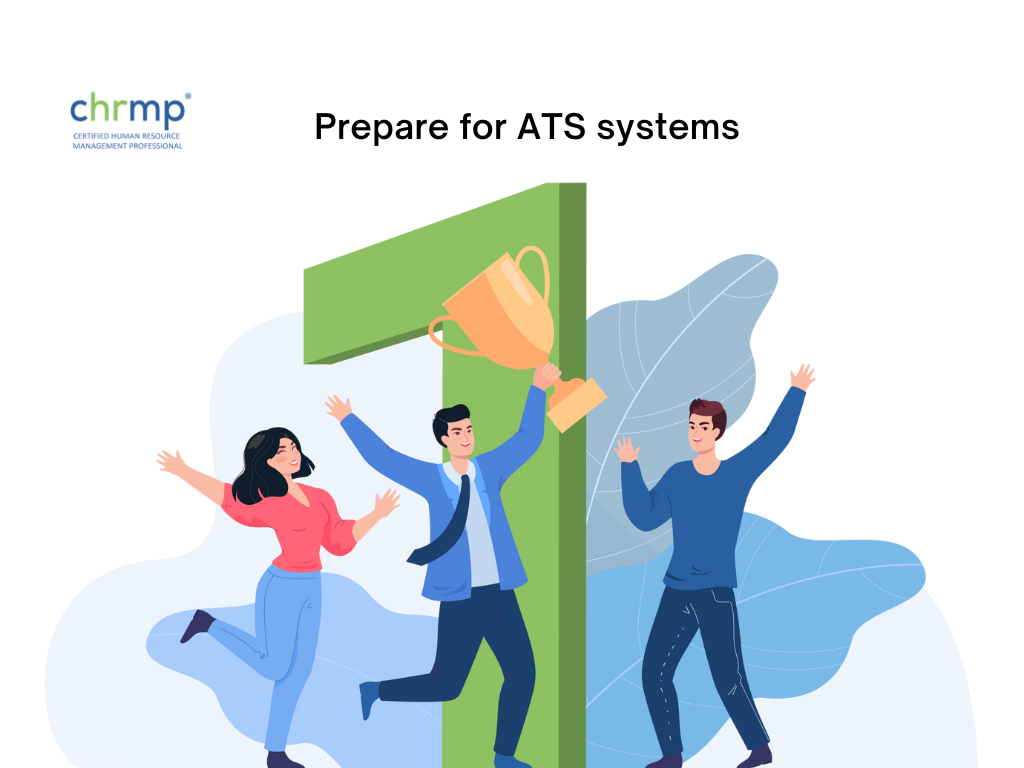 Resume keywords are essential for the recruiter and electronic ATSs scanning your resume, so sprinkling HR resume keywords throughout the document is a handy technique to prepare your HR resume for such systems.
You can't guarantee a perfect result from every ATS scan because there are so many of them, and because humans conduct candidate searches with their own habits and preferences. However, you can and should follow best practices for resume formatting, keyword integration, and keyword density.
Use acronyms while spelling them out to give the ATS the best chance of picking up relevant terms; however, they're defined.
Being an HR professional, you already have the advantage of first-hand experience with ATSs. You can put that knowledge into practice while crafting your HR resume.
Consider adding keywords in your HR resume in bold letters at the beginning of each bullet point, which is a very efficient method of increasing the keyword density of your HR resume and making it highly "skimmable."
4. Use a Crisp Writing Style: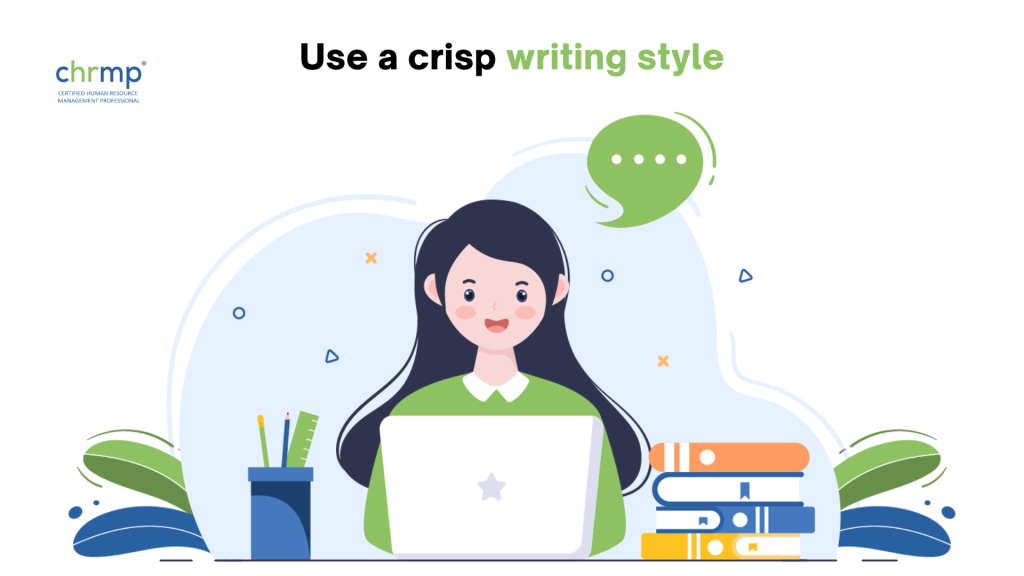 A clear, crisp writing style is vital to a good executive resume. Recruiting managers spend an average of six to seven seconds skimming through each resume. Thus, you must avoid using too many unnecessary words to describe sections in your HR resume.
Bear in mind that you won't be able to achieve perfect precision in your entire HR resume in one sitting. It will require several reviews, edits and proofreading to get there.
On top of a concise writing style, you must also pay attention to the format and font. Using straightforward and easy-to-read fonts for your resume while avoiding having too many lengthy paragraphs will be beneficial. Include ample space between paragraphs and sections to make your HR resume easier on the eyes.
5. Emphasise Your Achievements:
Your achievements are a crucial element of your HR resume that distinguishes you from most other candidates. And no, I'm not talking about a dull laundry list of duties assigned to you.
The achievements section of your HR resume should showcase your contributions to business objectives, how you met your goals, helped the company achieve significant milestones, and exceeded performance expectations.
Achievements don't just include quantifiable values. The value that you brought to your previous employers is not always tangible. Add points showing how you solved your company's problems, not just significant activities or tasks.
6. Don't Skip the Cover Letter:
A cover letter isn't just a formality. While writing one for each application you send out might be time-consuming, cover letters explain intangible reasons highlighting why you would be an excellent fit for the role that factual information in your HR resume can't.
Besides, a well-written cover letter is a chance for you to impress and create a lasting first impression. Moreover, a cover letter is a great way to let the recruiter know why you're genuinely attracted to the company.
Still think it's not worth the effort? This may change your mind.
According to research, over 83% of hiring managers favour resumes with a compelling cover letter over those which don't. Even in cases where the job ad renders cover letters optional, 77% of hiring managers would still prefer a resume with a well-written cover letter.
According to the respondents in the research, cover letters are given preference because they explain why you're motivated to join the company while better describing your career objectives.
HR Resume Example/Template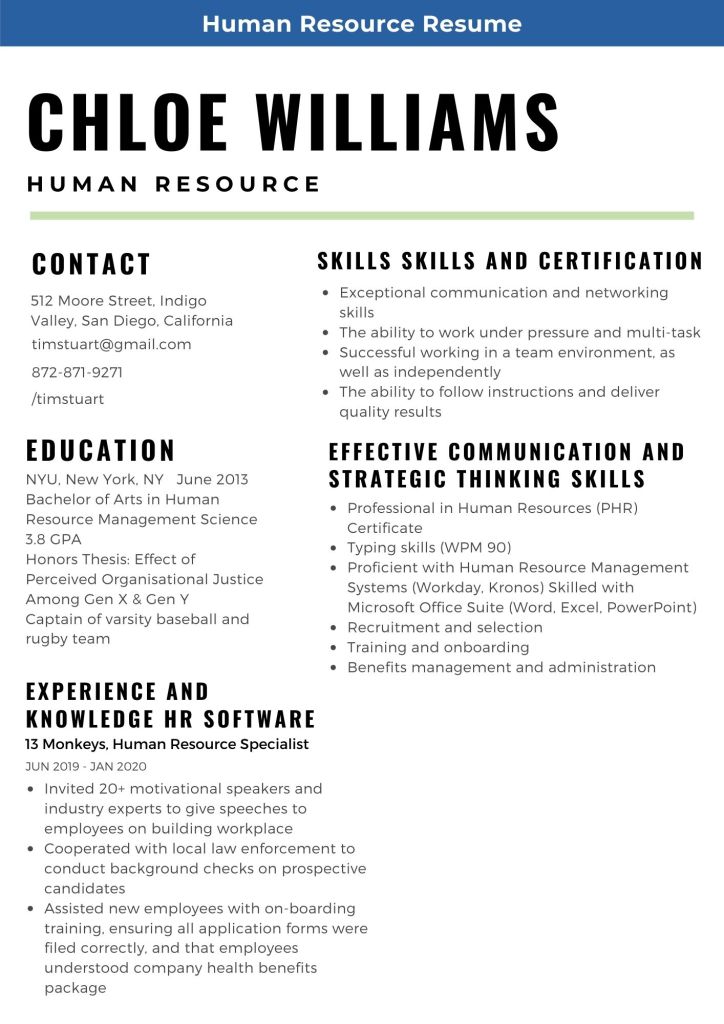 Why this resume works:
It's short and concise, with all the relevant information about the candidate.
Contains a carefully crafted headline statement.
Lists soft skills along with hard skills
In-Demand Skills to Add to Your HR Resume
HR professionals need to be equipped with an array of skills to tackle their myriad responsibilities. Given the significant changes in how the HR departments work over the past few years, you need to add several new skills to your HR resume to keep up with the competition.
Here are some of the most desired skills that recruiters look for in a candidate: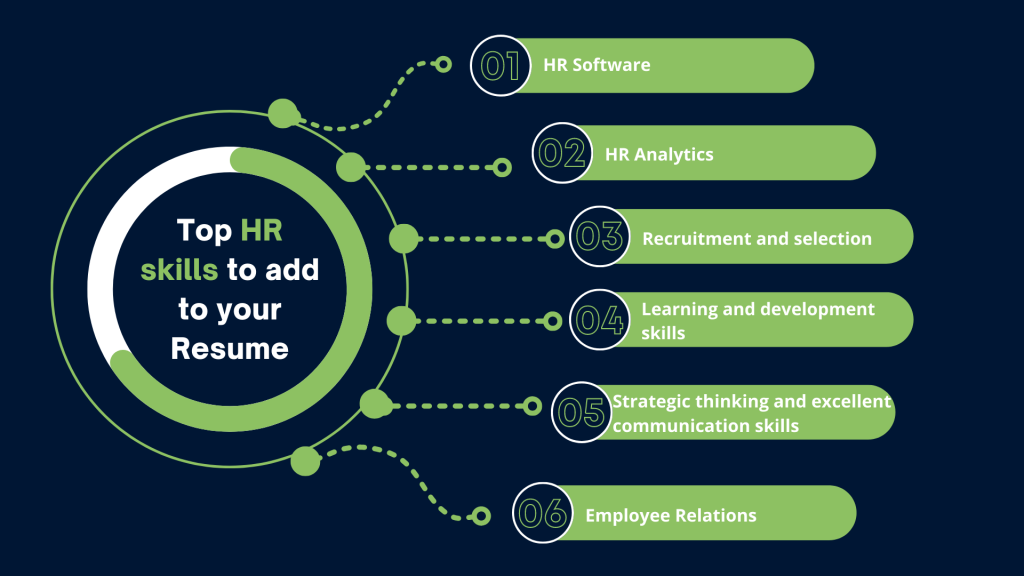 HR Analytics:
HR analytics is a comprehensive, data-driven process used by HR professionals to optimise the overall performance of a workforce. HR analytics is one of the most highly sought skills in an HR professional, as it helps derive meaningful interpretations from vast amounts of data.
HR analytics is the key to unlocking effective HR strategies. It enables HR professionals to identify proven practices while highlighting areas of adjustment. HR analytics helps HR professionals make better decisions through practical data interpretation to improve vital areas like workforce planning, turnover reduction, performance enhancement, cost reduction, etc.
CHRMP Certification in HR Analytics
Want to add HR analytics to your HR resume? Get certified through CHRMP.
The CHRMP certification course in HR analytics will help you grasp core analytical concepts that drive several HR initiatives like talent acquisition, performance evaluation, development, building leadership, hiring and promotion, job design, compensation, and collaboration.
Get certified in HR analytics through CHRMP, and be a part of our global community of leading HR professionals.
Recruitment and Selection: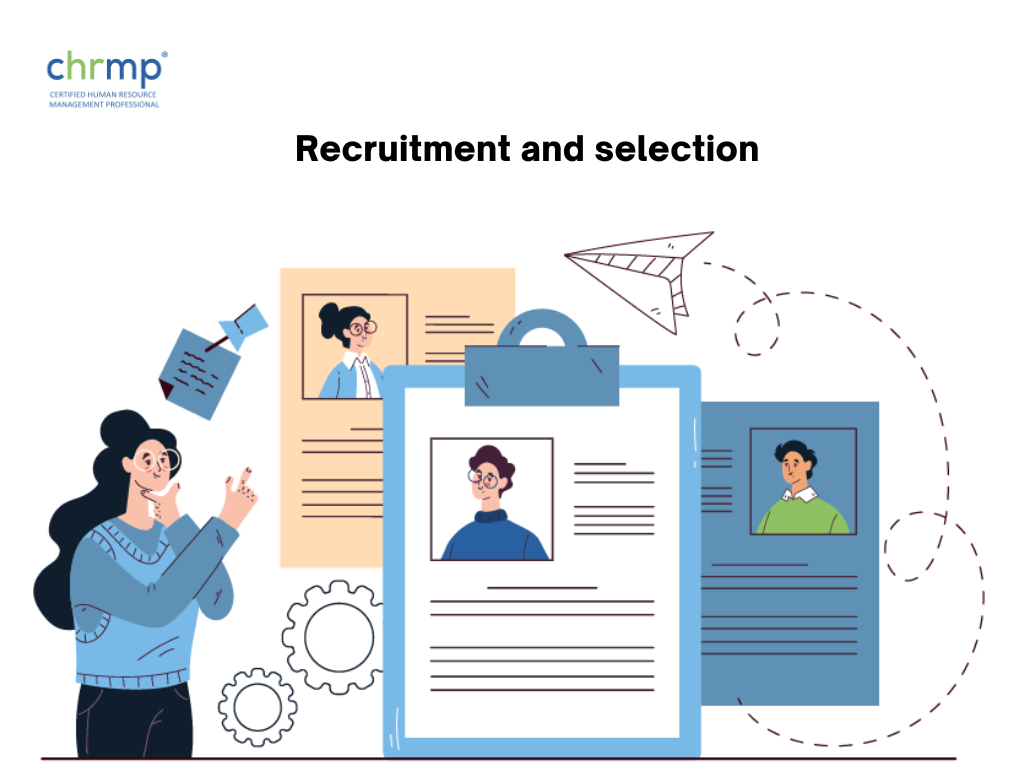 Recruitment and selection are a vital skills that recruiters look for in candidates. Recruitment and selection is one of the most important HR tasks and involves finding qualified candidates, selecting the best, and determining if there is a fit between the candidate, the company (culture), and the manager.
Each employee's contribution is critical to the survival and growth of a business. As a result, hiring the right person for the job is essential. A bad hire can negatively impact overall business outcomes in many ways.
When you hire the wrong candidate, the impact on your business is often much more significant than not hiring anyone at all! Recruitment and selection is not only an operational activity but also a critical strategic activity for the company, making it a highly demanded skill in an HR professional.
Learning and Development Skills:
Learning and development, also known as training and development, must be included in your HR resume because it is an essential skill that recruiters seek in an HR professional.
Many companies now hire a separate team dedicated to learning and development to identify and close skill gaps. To fit in, you must be well versed in learning and development to boost employee performance and utilise appropriate L&D software to help the company accelerate on the path to success.
HR Software:
HR software has gained a critical position in the functioning of present-day HR departments. Thanks to HR software, manual HR tasks like workflow management, keeping tabs on applicants, administrative tasks, etc., have become more accessible. HR professionals can now devote their time to areas where they can put their skills to better use. HR software tools increase efficiency, improve employee performance and reduce the possibility of bottlenecks in the future.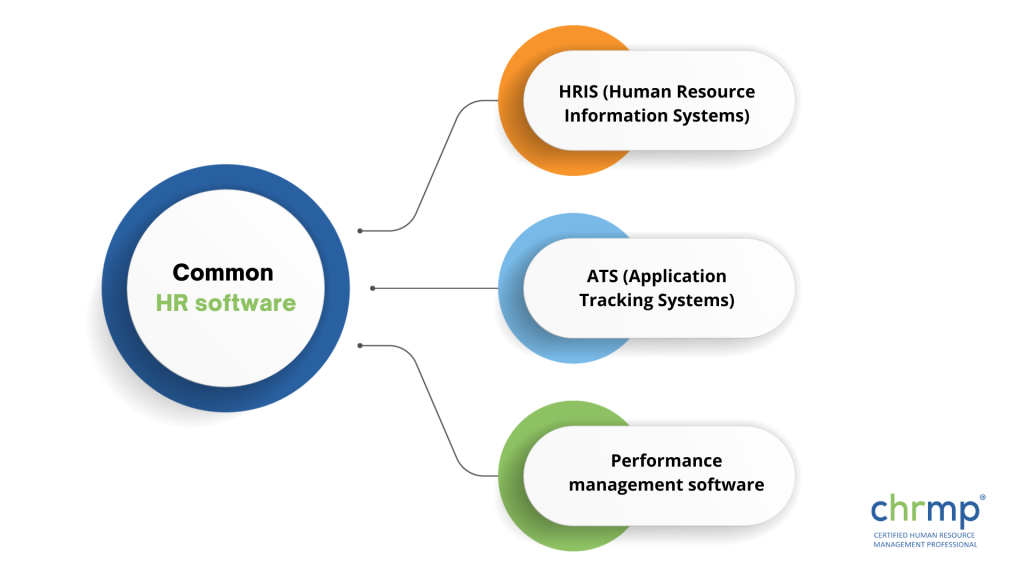 There are several types of HR software, but the most important ones that recruiters look for in an HR resume include HRIS (Human Resource Information Systems), ATS (Application Tracking Systems) and performance management software.
Strategic Thinking and Effective Communication Skills:
Strategic thinking and effective communication are vital skills to add to your HR resume.
Strategic thinking skills will enable you to identify long-term goals or aspirations, develop plans to achieve them, and understand how your decisions will impact the organisation.
On the other hand, practical communication skills enable you to easily connect with all kinds of people and establish strong links with employees and external stakeholders of the company.
Thus, effective communication combined with strategic thinking skills is one of the most desired skills to add to your HR resume.
Employee Relations:
Secure employee-employer relationships and the people supporting them are the foundation of successful companies. Employee relations are vital because they form a solid foundation between the company and its employees based on mutual trust. Thus companies need to have a person capable of fostering trust.
Being an HR professional, you will be required to deal with many employee issues, including excessive workload concerns, salary-related complaints, and workplace conflicts. Sometimes an employee might simply want to express their concerns and require an attentive listener.
An HR professional capable of handling the multi-faceted employee relation area must understand the employee's point of view while also keeping track of the big picture. The ability to build secure employee relations by effectively resolving employee concerns and creating a more satisfying work environment is an essential skill that recruiting managers look for in an HR professional.
Conclusion
Sitting down to write your resume, even with years of experience reviewing other people's resumes, is undoubtedly daunting. But if you take the time to incorporate the tips we have provided, you're well on your way to creating a winning HR resume. Things like adding a well-written cover letter or making an effort to acquire a high-demand skill to put on your HR resume will go a long way in helping you get your dream job.
CHRMP continuously strives to expand knowledge of the HR world and add more value to it. Are you looking to step in the world of HR or thinking of upgrading your HR skillset? Enroll for a certification course at CHRMP today and earn a globally recognized HR certification.